Making the Pirate EDC Tray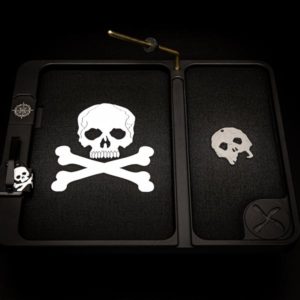 We have been doing exclusive custom shop designs for over 4 years now.  It started out with custom design NeoMags and eventually we added custom EDC trays to match.  It's a fun way to bring some cool designs into the already fantastic function of the products.
This Friday we are finally releasing the Pirate design we began working on almost a year ago.  The Pirate tray features something we have never done before, and if I knew how much work it would take to get it right, I'm not sure if I would have done it.
When I think about pirates I think about pirate treasure.  I wanted to include some hidden pirate treasure in this design.  We went through a lot of design ideas before settling on the final design.  I wanted to hide a coin somewhere in the tray.  And then I wanted the access to that coin to be "cool".  Just putting a coin in the middle of the tray for all to see seemed too easy.  How could we hide the coin and make it interesting?
Of course the idea of using magnets came up, and why wouldn't it?  Magnets are awesome!  You can use magnets to attract to each other, and you can also use the magnets to repel.  We are using both of those features to hide and also allow access to the hidden coin.
Two magnets under the disc with an "X" (because X marks the spot!) align with two more magnets that attract and hold the top down.   Using the skull key to fit inside the "X" to turn the disc, the magnets meet up with two magnets that are reverse polarity.  This makes the disc pop up so you can access the hidden coin.  We tried so many variations with arranging and quantity of magnets to get this right.  It took months of 3d printing and testing to get it right.  I look at it now and it seems so simple, but I forget all the issues we had along the way.  We talk more about it in THIS VIDEO and THIS VIDEO.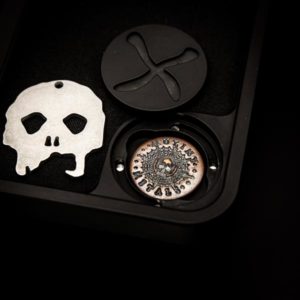 The skull key became its own design with its own features.  If I was going to make a key I wanted it to do more than just be a key.  We made the design of the skull to also be a bottle opener and then put a hole in the top so it could be a keychain.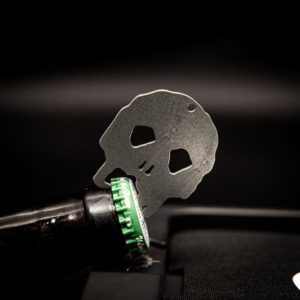 We contacted Mutiny Metals who make some really awesome pirate theme silver and copper coins and asked if they wanted to be involved.  They jumped on it and were great to work with.  We went with a skull compass design and used their pure copper alloy.  The coin has a nice weight to it and looks like something you would expect to see in a pirate chest.
A Jolly Roger printed on the heavy duty cloth tray insert adds a little design to what otherwise looks like a nice clean tray that the owner knows has a little hidden surprise inside.  The two NeoMag recesses have a compass rose laser marked with a "NM" in the center.  The signature pistol hanger brass rod is included with the tray as always.
We kept the design of the NeoMag simple with a matching Jolly Roger cerakote stenciled on the side.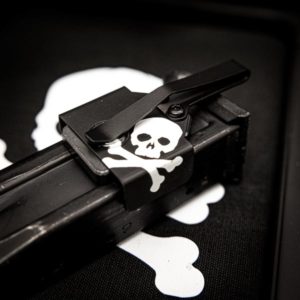 We think this design turned out great and offers some really fun features.  I'm not sure we will ever go to this length again.  I would hate to add up all the time we spent perfecting the coin feature.  I'm sure we will end up losing money in the end but to make something this cool, I think it was worth it this once.
A Pirate tray isn't quite your thing? Keep an eye out next month for our July custom release.  The star spangled design is always a big hit.  We usually release it on July 4, but with the pirate release coming so late in June we are going to release it later in July.  There is never a bad time to bring out some red, white & blue patriotic designs! What do you think about the Pirate tray design?  What's a custom theme you would like to see made?
Click on the image below to watch the full video review of this custom shop